Align your brand with Forbes and be seen by up to 67 million affluent individuals.
The Internet's only print+online directory with advisors vetted by America's most reliable source: SHOOK Research.
Forbes/SHOOK Top Advisor Directory
Bundled price: $9,000/year (unbundled: $23,000)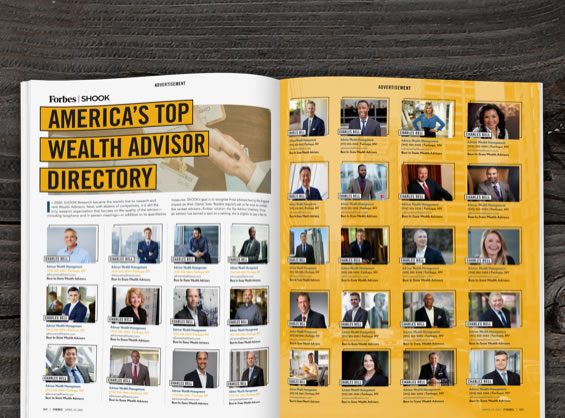 $5,000 per year

Print directory in Forbes magazine
2x per year
6.5 million readers
Photo, name, contact info, basic team information.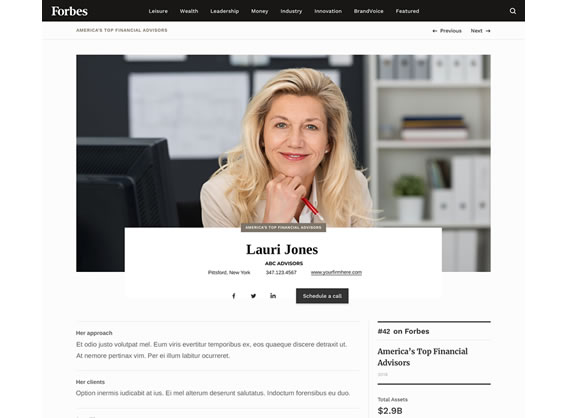 $6,000 per year
Online Profile
67 million monthly visitors
Picture, bio, description, articles, contact info, links to social media and soon video
Guarantee: high ranking in a Google search
(Forbes branded video coming)
Subscription to Forbes magazine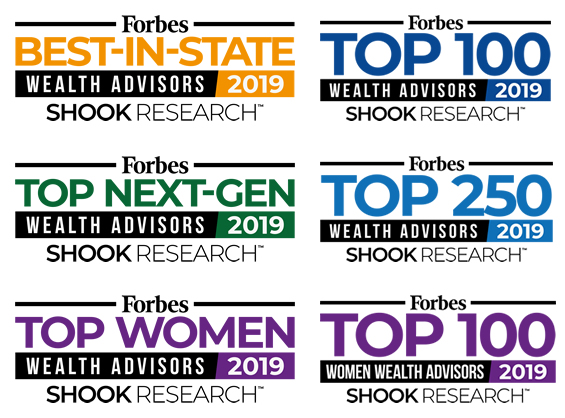 Value: $12,000 per year
Forbes/SHOOK full logo usage in print and online.
Be at the top of every Google search
What prospect doesn't Google search your name?
With 67 million monthly unique visitors, your Forbes.com page will appear at the top of a Google search.
Also included:
Interactive map of all Forbes/SHOOK advisors. All advisors receive a page with basic information. Premium subscribers will have pages with pictures and detailed information about each advisors' practice, contact information, links to social media and video will be offered in the future.
Premium subscribers will be rotated for prime placement on searches.
Is this required for Forbes/SHOOK Advisors?
This is a service Forbes/SHOOK is offering to visitors looking for an advisor vetted by SHOOK Research. Subscribing to Forbes/SHOOK is optional and has no bearing on the placement of an advisor's ranking.
For more information, please contact Forbes/SHOOK:
Victoria Scott
T: 561.717.5070
E: victoria@shookresearch.com
Our Policy:
If Forbes/SHOOK has not lived up to your expectations, please contact us at (561) 717-5070 to resolve any concerns. We want to make sure we are providing the best experience possible.