Top Advisor Roundtable Part II: Why Robo-Investing Will Leave You Cold
By: Ashlea Ebeling | Forbes Staff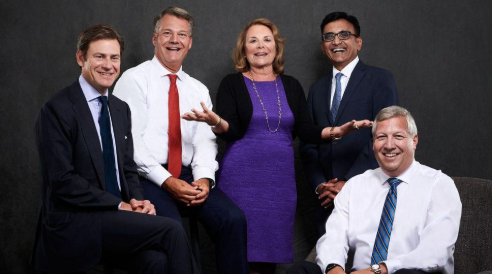 Forbes Top Wealth Advisors Brian Pfeifler, Jeff Erdmann, Louise Gunderson, Raj Sharma and Kevin Myeroff (from left). Credit: Jamel Toppin
In a roundtable meet-up on August 19 hosted by Forbes and Shook Research, assistant managing editor Matt Schifrin and I interviewed five of America's Top Wealth Advisors who manage a combined $23 billion in assets. They shared their wisdom of working with America's richest families. They are Brian Pfeifler, a lifer at Morgan Stanley in New York City; Raj Sharma, a Merrill advisor in Boston; Jeff Erdmann, with Merrill in Greenwich, Connecticut; Louise Gunderson, a UBS advisor in New York City; and Kevin Myeroff, founder of NCA Financial Planners in Cleveland, Ohio. In Part 2, below, they give advice that goes beyond investing and covers areas like tax and estate planning, advising multiple generations, and the challenges and rewards of running successful businesses. (See also, Part 1: 5 Top Advisors Tell Where To Invest And How To Generate Income In A Low-Rate World)
FORBES: There are a lot of pressures facing the wealth management business. How do you create value for people?
JEFF ERDMANN: If we're taking care of a family's estate planning and cash-flow management and helping them save in many cases tens of millions of dollars over the life of the relationship through the planning process, that's one thing. And the second thing would be we're adding convenience by handling all of their private banking and making that process seamless and giving them a set team that takes care of all of that. Couple that with investment management and due diligence and access to strategies across the globe. And then put a wrapper around that. Around a boutiquey-type environment where a family has multiple partners taking care of them and the multiple generations. And charge a very, very, very minimal fee for that. I'd say it's the best value out there in any industry.
LOUISE GUNDERSON: I think it's about knowing the generations and making sure you're equipped to be able to meet the different needs, whether it's a small amount of money or a large amount of money. And then it circles back into the estate planning, the tax planning, the financial planning. It's key to make sure that we have penetrated the next generation because they're very different than when we all started out in the business. It's lowering our minimum. It's making sure we educate them and give them exposure to the things that they feel are important. Not just what we think are important.
BRIAN PFEIFLER: Every firm is actively trying to address this by having different divisions focus on different wealth categories. You're seeing all of the big firms say for a certain wealth, we're going to have to cover those types of clients in a different manner than we're going to cover ultra-high net worth. And one's going to be much more technology-enabled and focused.
LOUISE GUNDERSON: Also make sure that your team is broad enough to be able to cover those aspects. Whether it's a service model or whether it's a generational model, or whether it's an intellectual model of talking about AI or investments overseas. You have to have the capacity on the team to now meet all of the different goals on the checklist.